Inside interior designer Stephanie O'Sullivan's Dublin 7 concrete home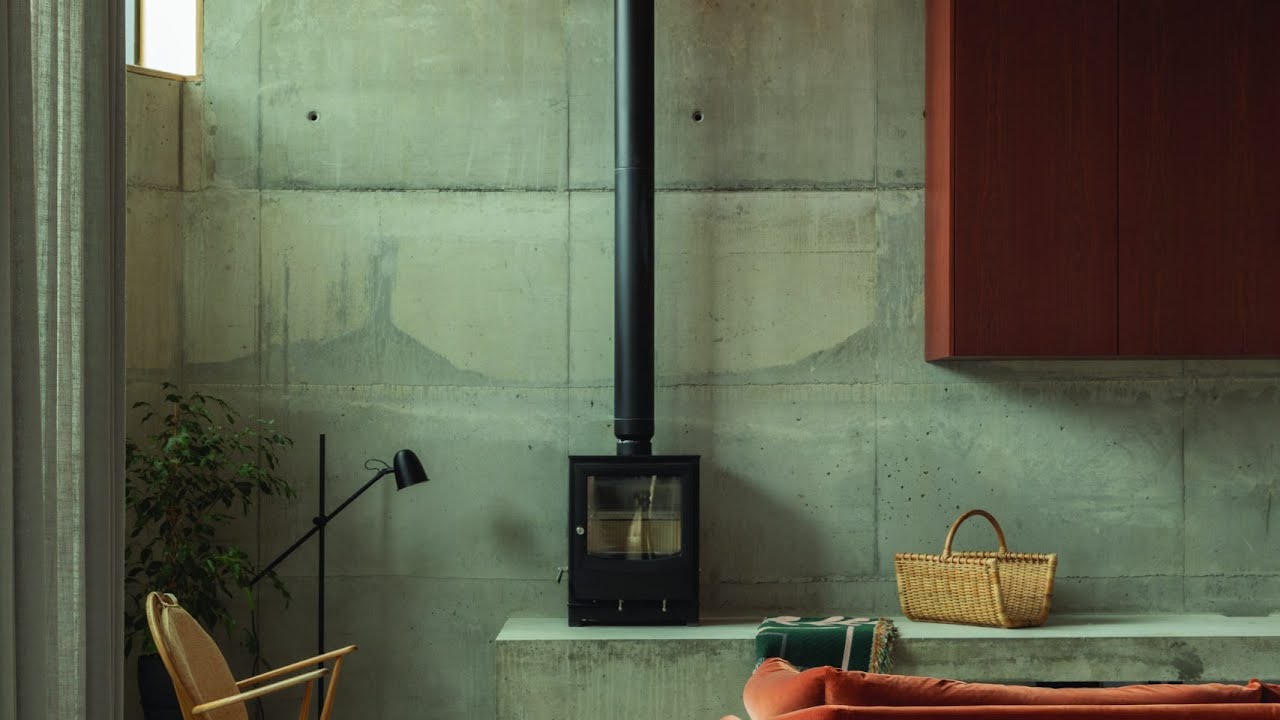 Dreaming of the first day in her new home, interior designer Stephanie O'Sullivan could not have anticipated being trained to connect electricity by telephone, on the first day of a national lockdown, during a global pandemic. And yet, that's where she found herself.
All the other basics were done and luckily she managed to do it. Together with her husband Graham O'Sullivan, architect and managing partner at Henry J Lyons, the couple built a single family home, but were initially looking for a repairman.
"We went to see a house on Aughrim Street [in Stoneybatter] and that night we discovered the site and the warehouse which we then bought", explains Stéphanie. It's not that the couple decided to do a new build instead, but rather the opportunity presented itself.
"When we saw the Leather Warehouse, we knew this was the way to go." Initially, they wanted to retain the existing structure and build fully enclosed spaces within its shell, but this proved unfeasible. Instead, they focused their efforts on designing a new build and, after a few iterations, landed on the schematic shown here.
"We doubt what's being built will be the forever home," Graham says. "The construction methods and site layout allow for reconfiguration of internal subdivisions and new additions as our needs change."
The couple returned to Ireland in 2014, having spent seven years in London where they bought, renovated and sold two properties, both of which were quite practical. Their shared vision for this home was to embrace urban living and challenge the way they wanted to live.
They bought the site with the money from the sale of their house in London and, thanks to Graham's intimate knowledge of Dublin planning, were confident that obtaining permission to redevelop the site would be approved. It was useful that the site was accompanied by a "bonus building" of 50 square meters.
When the couple visited the warehouse, the realtor quite blithely mentioned that a building also accompanied the site, which had once been the office and storefront of the leather warehouse. "Once we established that the monetary risk associated with the purchase could be offset by turning the office into a home, we thought it was reasonable to give the warehouse site a try," says Graham.
They renovated the small house, added a new bathroom, quickly rented it out and refocused on building the family home for themselves and their two daughters. The site was constrained by a number of elements, including site form and access, so they decided to keep the old boundary walls and build to the limits, creating an interior courtyard-style scheme .
Considering that the houses on either side of the lane needed access to their back gardens and garages, they made sure there was room for cars to turn around in the party walls, and that the permit to build is not too difficult.
"It was predictable and unpredictable," laughs Stephanie. "The Irish planning system, although well organised, can create hurdles along the way, and we ultimately made four applications to Dublin City Council."
There were many things to consider. "When you're dealing with 22 adjacent neighbors in a well-established community, be prepared to hold your own if you know it's the right thing to do."
The couple admire the work of architects Richard Neutra, Louis Kahn and Tadao Ando, ​​blending industrial elements and mid-century influences with a nod to Japanese architecture. They also cite some Irish practices that have developed innovative mews and hinterland projects, such as architects FKL, Boyd Cody, A2 and ODOS, as well as projects seen from across the water.
"We had been experimenting with clever uses of small spaces in London where building houses in back streets is the norm," says Stephanie. "We didn't think a garden was necessary; classes can be better sometimes."
All the concrete for the house was poured on site by their contractor Drumlargan Construction and Graham's experience on commercial projects came in handy, particularly his work on the Guildhall School of Music and Drama, part of the Barbican Center.
"It's impossible to work in and around the Barbican without learning a thing or two about concrete finishes." When it comes to exposed concrete, all plumbing and wiring services should be planned well in advance. "Either the elements are cast in concrete or discrete voids and service roads must be designed," explains Stephanie, the couple who opted for the former.
Throughout, the plywood panels provide texture and warmth, and the limited use of finishes and colors help create a real sense of calm, which is further affirmed by positioning the house as facing inwards.
"From an interior design perspective, there is no dead end. Everything flows and achieves a balance in the way it is zoned, which always results in a harmonious and calm space. Would they rework together?" "It was sometimes difficult," says Stephanie. "We both have strong ideas. I think we would, but not for a while."
Photography: Shantanu Starick