New York Fashion Designer, UNL Alumna Shows Pieces on East Campus | Culture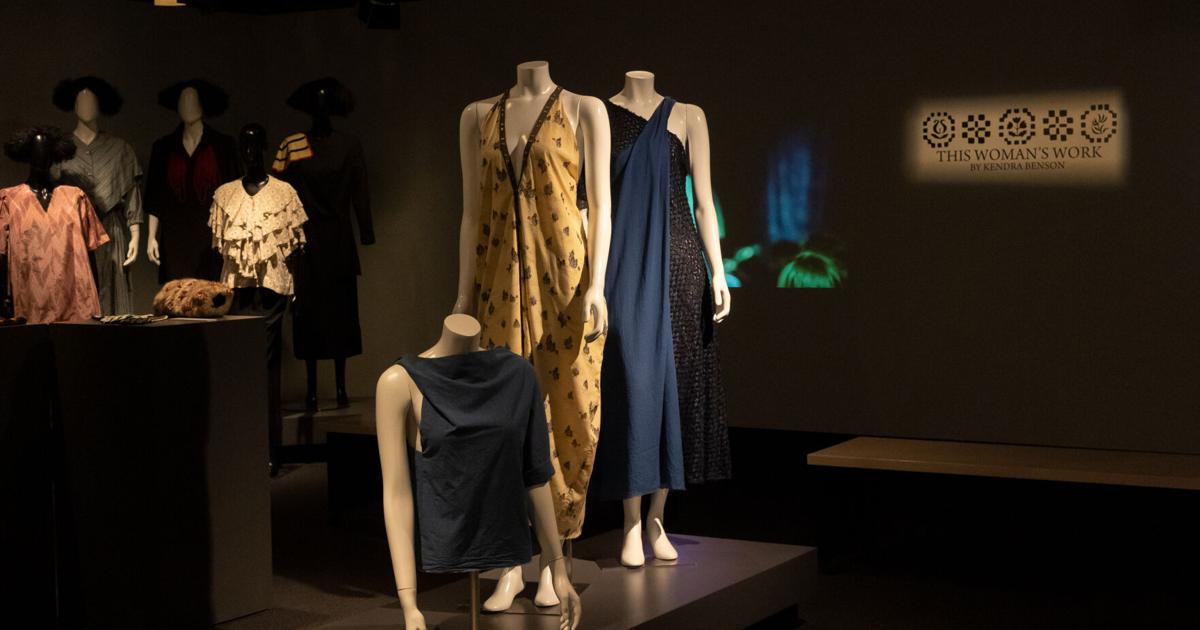 New York fashion designer and University of Nebraska-Lincoln alumnus Kendra Benson was visiting The Breakers, a Newport, Rhode Island mansion built by Cornelius Vanderbilt II. Seeing the uninterrupted view of the ocean crashing against the cliffs behind the marble mansion, she wanted to encapsulate that view for her new collection, titled Nashua.
"For anyone who has that view, it's an amazing thing, and then I thought of Gloria Vanderbilt's mom and what would make her leave all of that behind and go live in the West Village in New York City," Benson said. "For Nashua, I wanted to use that view and the romantic idea of ​​leaving her."
Pieces from Nashua and three other collections created by Benson – Japonica, Padam Padam and americanodyssey – can be found at the Robert Hillestad Textiles Gallery on East Campus through December 16.
Benson originally lived in Missouri, but moved to Nebraska for college. She graduated from UNL in 2005 with a diploma from the Textiles, Merchandising and Fashion Design program. From there, she interned with Tracy Reese in New York and Kate Clarkson in London. She also worked as an associate designer for Donna Ricco and later ran Edna Moran Archival Textiles in New York.
From Benson's multitude of fashion experiences, she learned various tricks of the trade and used her acquired knowledge to create her own brand in Brooklyn, New York called "THIS WOMAN'S WORK", named after the song by Kate Bush. .
"When I started my brand, there were a lot of people telling me how pieces can be more marketable, but those pieces never sold," Benson said. "The pieces that I put all my love into and weren't trying to make money out of, those are the pieces that everyone wanted. That's the main lesson I've learned so far. now in my business; if someone's advice doesn't resonate with me, I won't feel the need to follow it.
While Benson's collections are often initially inspired by American history, she is never content to copy historical styles of clothing. On the contrary, she said she wanted to capture the vibe of the period in her clothes.
"I use a lot of calico prints in my collections that reference colonialism when things were very royal," Benson said. "I also like to emulate the couture of the time and use really loose, draped silhouettes."
To recreate these ideas, Benson said she also collects vintage fabrics and embellishments and repurposes fabrics and accessories.
"In the beginning, a lot of the fabrics came from my childhood stash, and I bought unused vintage fabrics when I worked for the Textile Archive," Benson said. "Also, I bought some European buttons from this lady with a huge collection in Missouri, and my husband was like, 'Wow, you're getting really serious about your job, you just bought about 500 buttons. '"
In the summer of 2014, Rachel Duryea, a former student of UNL, completed an internship with Benson in New York. Duryea said she remembers helping Benson create the fabrics for her Padam Padam collection.
"Kendra had a print studio and she hand-printed every piece of fabric. It wasn't like she was ordering fabric with pre-printed designs," Duryea said. "Each fabric was like a work of art."
Through the internship, Duryea learned the importance of planning a project well before even threading a needle.
"[Kendra's] very thorough. She puts so much emphasis on process and mood board planning," Duryea said. "Before I interned with her, I would just throw patterns on fabric and start cutting. I learned from her that everything has to be precise, so there are no mistakes further down the line.
Benson said she wanted people viewing her clothes at the Robert Hillestad Textiles Gallery to feel the importance of fashion and appreciate the processes she went through to create each collection.
"Clothes can make people feel really good about themselves. It's armor," Benson said. "In my collections, I want people to see how exquisite the clothes are, as well as to feel nostalgia. I want them to remember something they've seen once in the past, but they don't don't remember where.