STYLE: Jamie Franki, UNCC "Edu-Tainer" and Coin Designer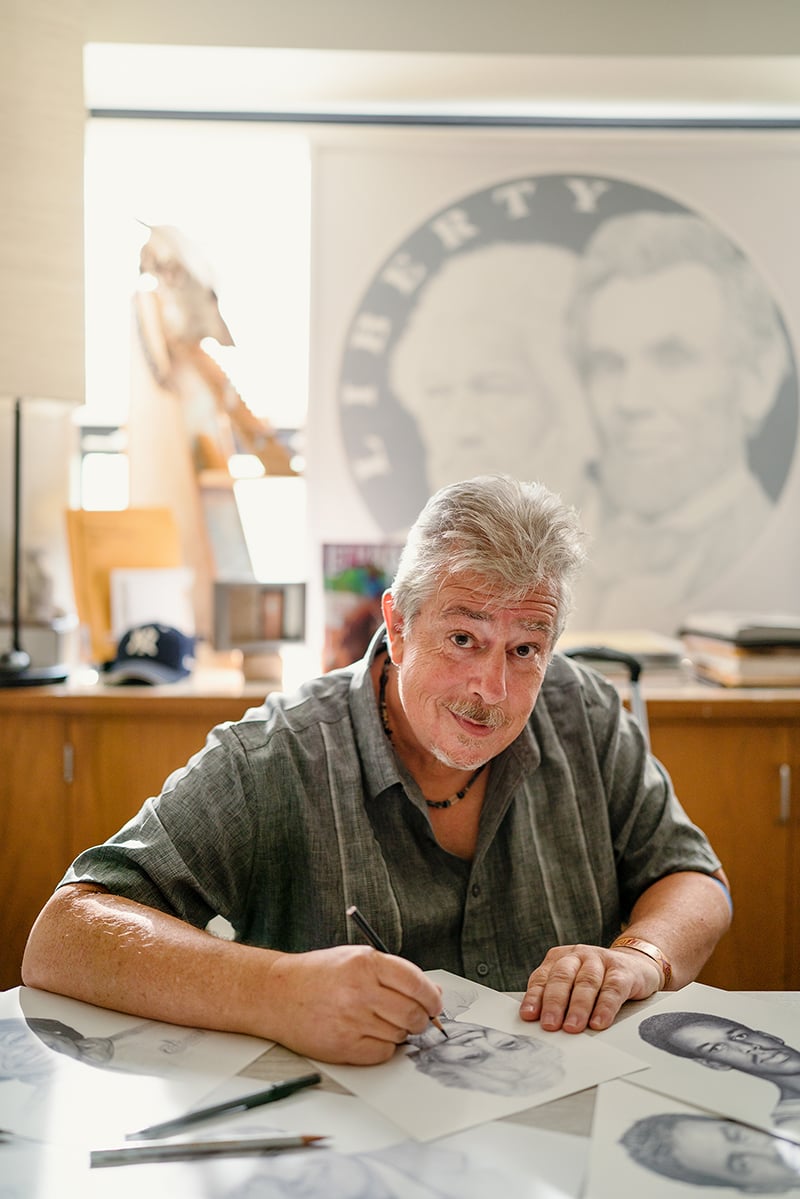 An associate professor At UNC Charlotte, Jamie Franki coordinates the university's illustration program. As a magazine and book illustrator, he works with digital and traditional mediums and does a lot of freehand drawing. He often uses Adobe Creative Suite, although he wouldn't call his work "computer art". "The manufacturing is largely organic," he says. "I always have a disposable fine point Bic pen.
In 2004, he added "coin designer" to his resume when the United States Mint accepted him into their art infusion program. Since 2003, the Mint has engaged professional American artists to work with Mint staff to create new designs of coins and medals. "It was a fortuitous connection that I made with an organization; I served my country, isn't that cool? " he says. "I'm no soldier, but being able to serve with my pencils and my laptop from my home here in Concord has been great."
In 2005, Franki's American Bison Nickel was selected for a six month mint and received a "COTY" (coin of the year award) as this year's most popular global coin. In January 2006, his Jefferson 1800 Nickel started racing, and in 2008 he designed the Order of IKKOS medal, which honors the Olympic coaches of the United States team. Most recently, he was part of the Air Force Silver Medal design team, which was released this year.
After the release of his first nickels, Franki and his wife, Penny, did what they call the "nickel tour". "People were very entertained by our name association," he says. "Many have asked for his autograph. They called us "Penny and the Nickel Man".
But Franki has his own nickname for Penny, the one he adopted after being diagnosed with stage 4 non-Hodgkin lymphoma five years ago. "My wife was my 'chemo-sabi' in everything," he says. "During chemo my hands weren't doing what I told them to do, it scared me to death," he says. But after a clean scan earlier this year, he quit chemo, regained the use of his hands and, in August, celebrated his 60th birthday. "You can believe the T-shirts that say, 'Cancer sucks'," he laughs, "but it's… it's okay. "
Today, Franki's work is on permanent display at UNC Charlotte Marriott, where her coin "Faces of Freedom: Gold Coins Minted at the Charlotte Mint" hangs outside the atrium. "It looks like mixed images I made of coins that were minted here in Charlotte, back in the days of the Old Mint, but before it became the Mint Museum," he explains. -he. "This area was one of the first centers of the gold rush in the United States. What better way can I take what excites me anyway? The history of the region and the gold coins.
Franki completed his last contract with the US Mint in 2019, and he is currently drawing portraits of inductees for the UNCC Athletics Hall of Fame. He says he would love to take a break at the Tubman Twenty and hopes to do larger relief and bronze works for public places. He also hopes one day to release a children's book. "I've been threatening to do this for years," he says. But for now, he's just thrilled to be back in class for the first time since March 2020 and to resume his role as resident "educator". "If you don't laugh through it," he said, "you don't live. "